Looking back, 2019 started off with a bang as markets rocketed higher after the sell-off that ended 2018.
As the year progressed, however, investors were faced with a very different scenario. Many pundits were calling for slower economic growth and potentially higher interest rates to cause a recession in 2020, or at least weigh heavily on investment returns. Additionally, the negative impact from escalating the burgeoning trade dispute was believed to be enough to bring both the U.S. and China together to find a resolution. Revisiting those assumptions, only one — the moderating economic growth — played out as expected:
Moderating economic growth

Real GDP growth in the U.S. cooled from 2.9% down to 2.2%. Fears of a recession were far more dire than reality, perhaps the same phenomenon we are observing as we head into 2020. Growth outside of the U.S. remained challenged as well.

The Federal Reserve to raise interest rates

Quite the contrary, the Federal Reserve pivoted through the year as they shifted from hiking rates to cutting rates, moving to lower rates three times during the year. The Federal Open Market Committee (FOMC) also began to grow their balance sheet again, stepping in to provide needed liquidity in the repo market.

A resolution of the ongoing trade dispute
with China

Rather than de-escalation, the dispute ramped up into a full-blown trade war complete with "tit-for-tat" tariff increases and an increasingly politicized negotiation playing out in many instances via both countries' domestic media outlets. While a Phase I trade deal was reached in December, many of the long-standing larger issues remain unresolved. Details have since continued to emerge on the initial agreement, as well as the next issues for negotiation in what's being termed the Phase II deal.
Unlike 2018, most asset classes saw strong gains for the full year. Equity markets in particular, which sold off into the end of 2018, rallied sharply off their lows both in the U.S. as well as internationally. Global central banks providing additional liquidity and stimulus further helped fuel gains. In tandem, falling interest rates helped send fixed income markets higher as well.
Commodities also moved higher, including precious metals like gold, industrial metals like copper and nickel, and crude oil, with natural gas the only notable loser for the year. After such a strong year for most asset classes, there could be some natural profit-taking and rotation that may unfold as 2020 progresses. However, we continue to believe the merits of investing over the long term in high-conviction and outcome-oriented solutions serve our clients best.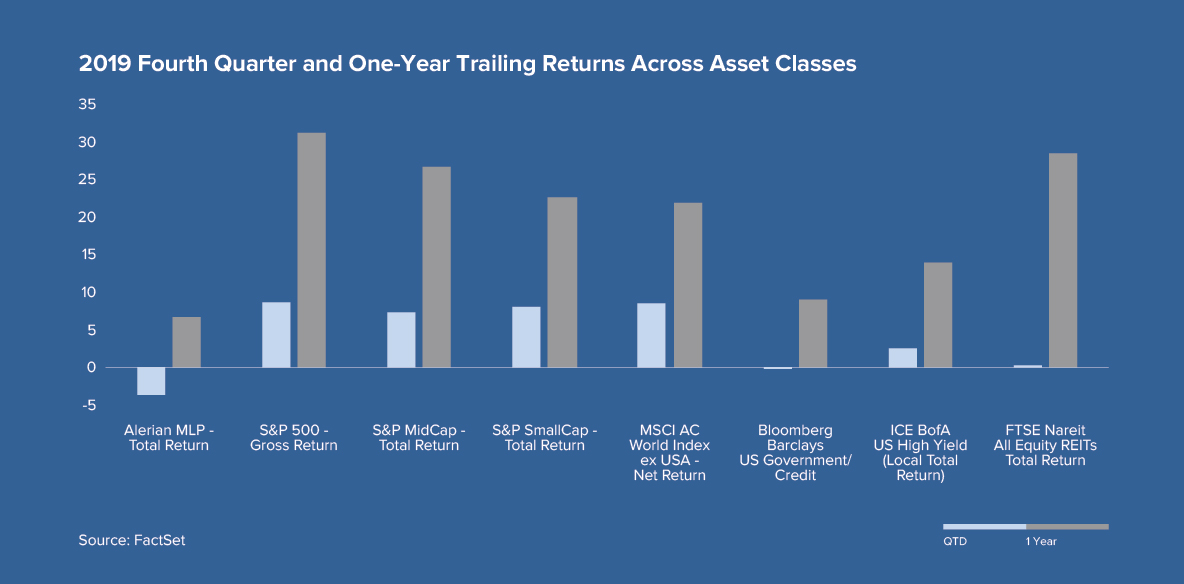 "In the business world, the rearview mirror is always clearer than the windshield."
– Warren Buffett
Fed Funds Futures at Different Points in Time
The Market Is Almost Always Wrong About What the Fed Will Do
Fed funds futures at different points in time

Westwood's "20/20" Vision
As we do each year, we look forward and set scenarios to help guide our investment outlooks and assumptions. This provides both a time for introspective analysis for what has transpired as well as what opportunities and pitfalls may await in the coming year. We start with our operative scenario, the most likely vision of the future, and then push our intellectual flexibility to alternative outcomes.
Besides being a bad play on words, many of the same factors at play in the markets remain relatively unchanged from 2019.

The Economy:
The economic cycle remains later in its course, having now eclipsed the mark for being the longest in history, even as the magnitude of the recovery remains well below others. However, U.S. GDP growth will likely once again be solidly positive around 2%, albeit lower than the prior year, and similarly, inflation is likely to remain well anchored around the current level at 1.9%. The Federal Reserve is likely on-hold from hiking or cutting their benchmark rate, though they will remain supportive of markets with further stimulus to come, if needed.

The Trade War:
The ongoing trade war with China remains unsolved; an initial deal is clearly positive on the surface, but fails to address any of the deep, long-standing issues between the two countries. This tension continues to weigh on business confidence, even as consumer confidence remains strong here, buoyed by the tight labor markets and low levels of unemployment.

The Election:
The noise from the upcoming presidential election will only grow louder as November approaches, but as the market has largely done for 2019, we expect limited impact outside of a few specific areas that may rise and fall with the odds of the election outcome.
While we believe the most likely scenario is the one laid out above, there are certainly events in the foreground that could cause "Near-Sighted Optimism" to expand. A notable shift higher in global growth, aided by stimulus from the prior year, and further progress on resolving the trade issues would be notable tailwinds to accelerate economic and earnings growth alike to push markets notably higher. Companies would be incentivized to spend more on capital expenditures, many of which remain in a holding pattern awaiting this type of further clarity.
In contrast, if "Far-Sighted Fears Materialize," such as a retrenchment on the trade progress or further deceleration of growth, it could easily send investors into safe-haven assets. Further fueling the fear, more populist regime shifts around the world could disrupt the flow of capital and place further strain on markets that are already being supported by global central bank stimulus.
Balancing these puts and takes, we remain relatively constructive on the potential for another year of asset returns, including equities, in 2020. However, we remain fully aware of the potential for further disruptions and continued uncertainty across asset classes and geographies and remain focused, as we have for over 36 years, on absolute risk and striving to protect client capital during periods of volatility.