U.S. equities finished Q3 on a strong note and entered Q4 near all-time highs. The S&P 500 Index rallied 7.7 percent in Q3, which was the best quarterly performance for the index since Q4 2013.
The U.S. market has been a global shining star this year. The All-Country World Index (ACWI) peaked in late January, then suffered a 10 percent correction. The S&P 500 also corrected — but it has since recovered fully and then some.
Year-to-date, the S&P 500 is up 10.6 percent, driven by robust sales and earnings growth in U.S. corporations. The Tax Cuts and Jobs Act helped companies post 25 percent year-over-year GAAP earnings growth in 1H18. Tax reform has also allowed companies to increase mergers and acquisitions (M&A) activity. 2018 is shaping up to be a record year for M&A. Global M&A is up over 50 percent from last year, and total deal value could approach $2 trillion by year-end. Notably, all sectors of the economy are participating, which indicates broad strength.
Corporations have also been using their cash to increase capital expenditures (capex). According to Cornerstone Macro, real U.S. total capex spending rose 7.1 percent in Q2 and is expected to approach 9 percent by Q4. The benefits of higher capex are not immediate. They appear two to three years down the road because it is an investment in future productivity. This late-cycle surge in investment could indicate that this economic expansion, already the longest on record, could continue for many years. However, this does not eliminate risks weighing on the minds of investors.
2018 Third Quarter and One-Year Trailing Returns Across Asset Classes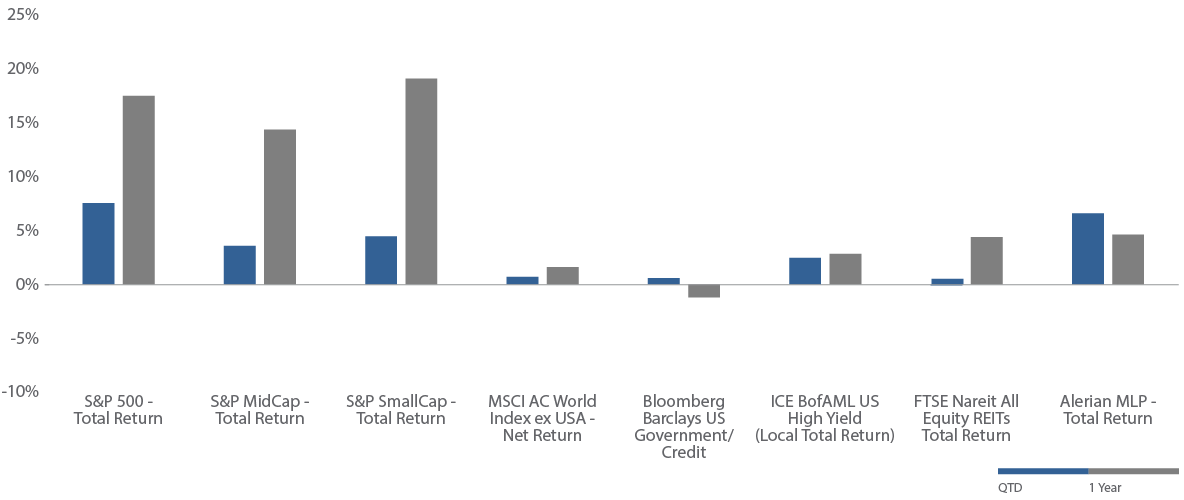 Fundamentally, earnings gains have been very strong the last two years, though 2018's growth benefited as a result of tax cuts. In 2019, it is expected that earnings growth will be lower than this year's stellar rate. Earnings slowdowns, even if growth remains positive, are typically a headwind for equities.
Until Nov. 6, most news and market volatility will be related to the midterm election. Historically, midterm years have been the weakest for stocks of the four-year presidential cycle. According to Ned Davis Research, the average midterm election year sees significant tightening of financial conditions due to removal of both monetary and fiscal stimulus.
Despite being overall lackluster, midterm years often see a late-year rally. Fourth quarters are typically strong periods for equities, regardless of which party wins. The catalyst is when the uncertainty is lifted. In either case, the result is likely to be priced into the market well in advance of Election Day.
Another risk the markets mind is the Federal Reserve and the future course of monetary policy. At its September meeting, the Federal Open Market Committee (FOMC) raised its benchmark lending rate above 2 percent for the first time since the end of 2008. The rate increase was well-telegraphed and priced into the market. Another increase is expected at the December meeting.
The biggest change was in the FOMC's policy statement, which removed the phrase, "monetary policy remains accommodative." The removal reflects the fact that the current Fed Funds Rate of 2-2.25 percent is very close to the central bank's estimate of the neutral rate — i.e., the interest rate that is neither stimulating nor restrictive. The Fed's own economic projections imply that this neutral rate is between 2.5 and 3.0 percent. Inflation expectations are "strongly anchored" according to Chairman Jerome Powell, which would seem to give the bank some leeway to raise rates more slowly in 2019. Should inflation start to rise, however, or if the Fed simply decides to put its rate hikes on autopilot, rising rates could render unintended consequences, putting downward pressure on prices and wages.
Escalating global trade tensions are another risk. The U.S. and China are currently involved in a tit-for-tat trade spat which is relatively small at the moment, but could grow in size and scope. On a positive note, the U.S. reached a deal with Canada and Mexico to re-write NAFTA on more favorable terms for the U.S.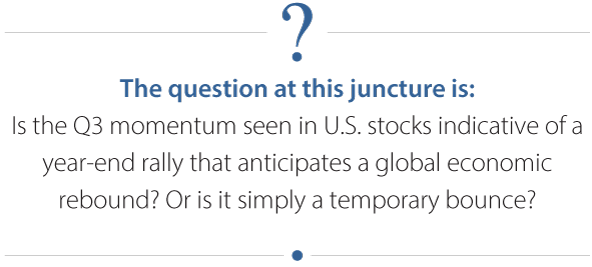 Westwood's view is that markets will continue to flourish heading into 2019. The political noise will fade, and investors will refocus on fundamentals. Nominal GDP is surpassing 5 percent for the first time in a decade, which indicates broad economic growth. Increases in capital spending will eventually take hold and manifest in higher levels of worker productivity and wages.
International markets (excluding Japan) have lagged the U.S. significantly year-to-date. We believe that international equities remain an opportunity for U.S. investors, especially in Europe where valuation levels are much more reasonable and monetary policy is not as tight.
Within the U.S., Technology and Consumer Discretionary stocks — composed mostly of growth stocks — have led the market in 2018. Although growth sectors are still pacing the market year-to-date, equities have experienced a rotation in sector leadership toward value since June. Areas such as Utilities and Consumer Staples, which underperformed earlier this year, have rebounded since the first week of June and begun to lead the market higher.
We believe this rotation into traditional value stocks could carry forward into 2019. Over the last decade, growth stocks have outperformed value. After all, if growth is in short supply in the market, then the price of stocks with consistent growth should garner a premium. With growth so hard to come by since 2007, it is no wonder that growth stocks have done well.
However, the U.S. is now seeing nominal GDP growth above 5 percent. Strong GDP growth, combined with a stronger dollar and rising commodity prices, has historically been a good combination for value stocks.
In either case, Westwood still recommends a diversified portfolio with both value and growth stocks represented.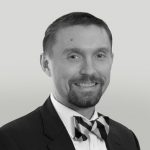 Allen Lewis, CFA