Institutional investors tasked with making long-term capital allocation decisions face many challenges going forward. As the "beta bubble" continues to get bigger, it will become more critical to find differentiated investment performance for equity allocations. By combining high-conviction, diversified stock-picking with a clearly defined edge in managing downside risk, an active equity allocation may offer distinct advantages over unmanaged beta.
The Current State – The Beta "Bubble"
ETF assets have grown from nearly $100 billion in the early 1990s to almost $3 trillion today. Recently, Barron's reported that more than $800 billion is on track to flow into passive strategies in 2017, up from $600 billion in calendar year 2016.1
Cumulative Net Flows Domestic Equity Active Mutual Funds vs. Passive Funds
($Bil.; January 2006 – March 2018)
Why It Matters
The change in market structure driven by the proliferation of the ETF business has helped increase the correlation among stocks over recent years — particularly in periods of market stress. Therefore, the beta bubble may underperform, collapsing under its own weight, when downside market volatility increases. The performance tables below highlight the importance of avoiding "blunt" index instruments vs. a conviction-based active approach to limit losses in more volatile markets. In difficult economic environments, outperformance ultimately becomes a function of avoiding losses in the worst stocks by owning quality stocks with more measurable downside risks.
All Stocks are Not Created Equal in Down Markets

The Need for Alpha May Be Greater in Future Periods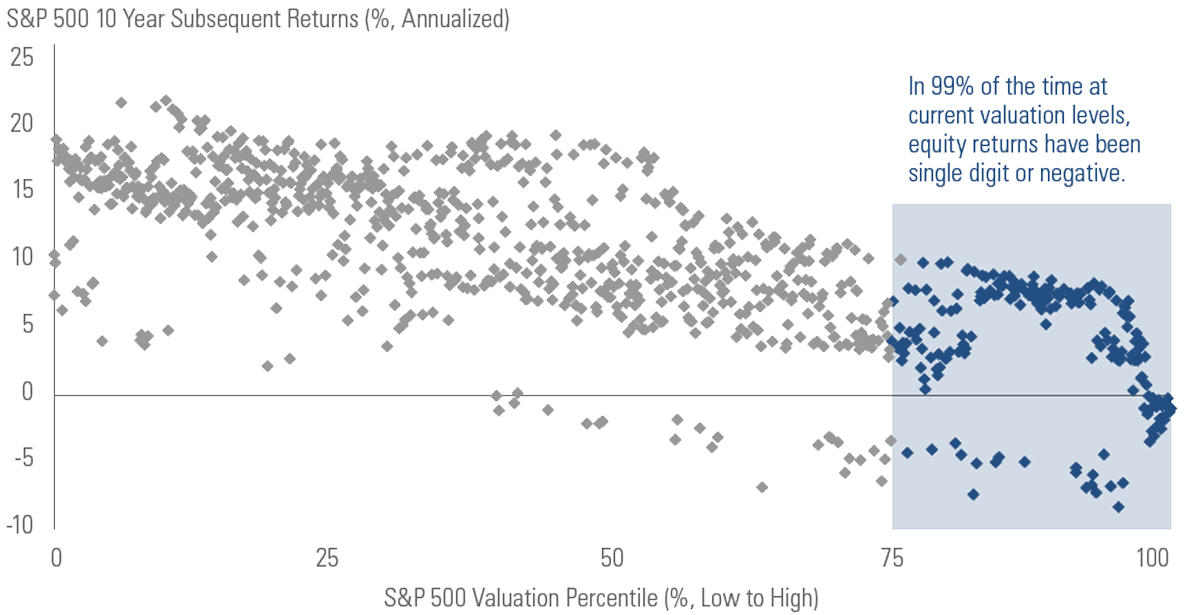 Institutional investors may need to reconsider current equity valuations and the potential for lower returns over the next 10 years vs. a "cheap" beta approach through passive investing (see chart below). The ability to source 200-300bps in alpha with improved risk-adjusted returns may appear more attractive going forward at current valuation levels.
Additionally, the ongoing shift in monetary policy may create winner-take-all markets as market leadership tends to be in a more limited number of companies. If price-to-earnings multiples and profit margins peak, avoiding those marginal companies in favor of high-quality companies trading at attractive prices becomes increasingly important in the pursuit of alpha. We are already seeing this play out in the Russell 2000 Index where one-third of the stocks in the index have not been profitable in 12 months, a level normally only seen in recessions. As for the S&P 500 Index, we are also seeing pair-wise correlations trend lower creating more alpha opportunities for a best ideas conviction-based approach.
The current trend in correlations potentially create more alpha opportunities for high conviction active managers.
S&P 500 Rolling 65-Day Correlations