Can Your Multi-Asset Fund Do The Same?
Westwood Income Opportunity Fund (WHGIX)
Outperformance During Periods of Rising Rates
Our flexible multi-asset approach has a consistent track record of outperformance during periods of rising rates.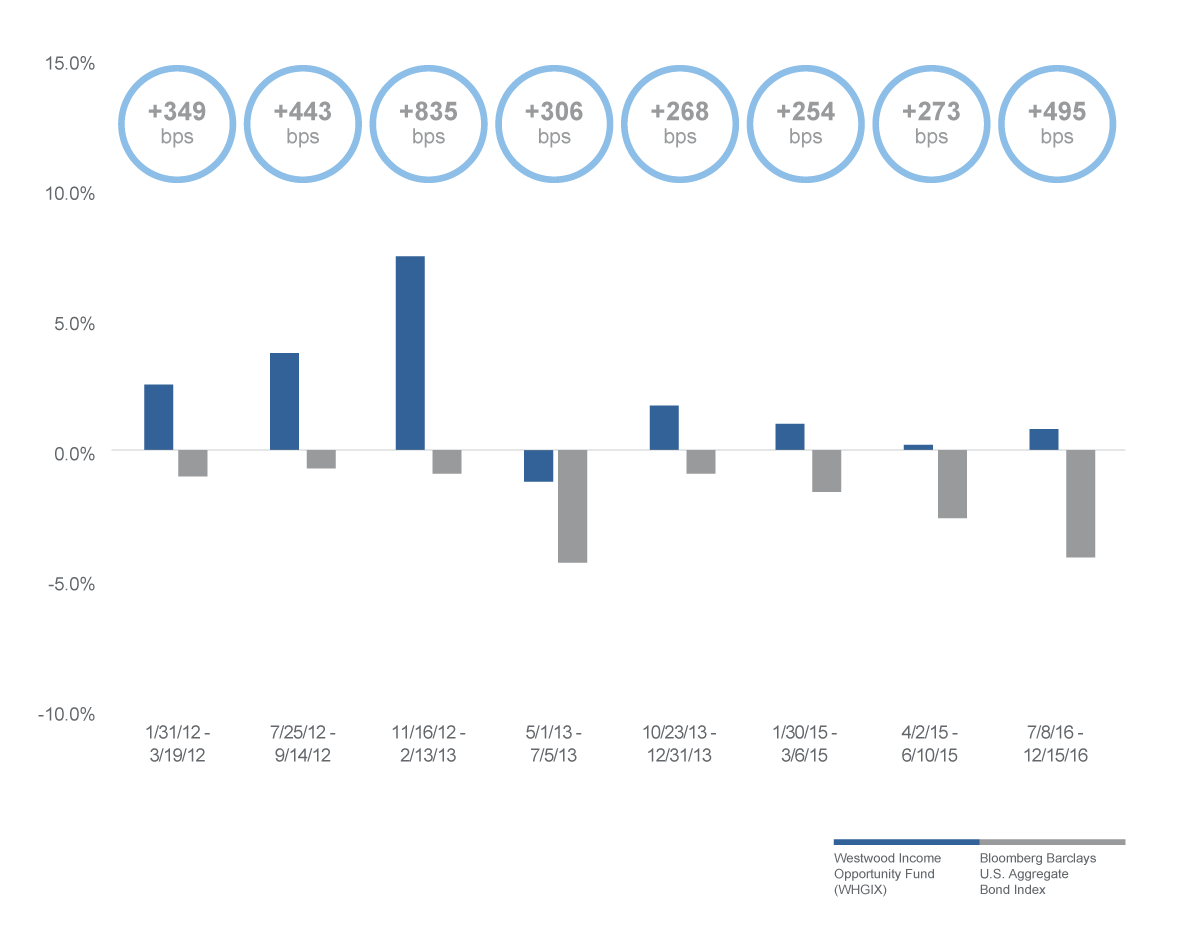 Risk and Return Comparison
January 1, 2006 – December 31, 2017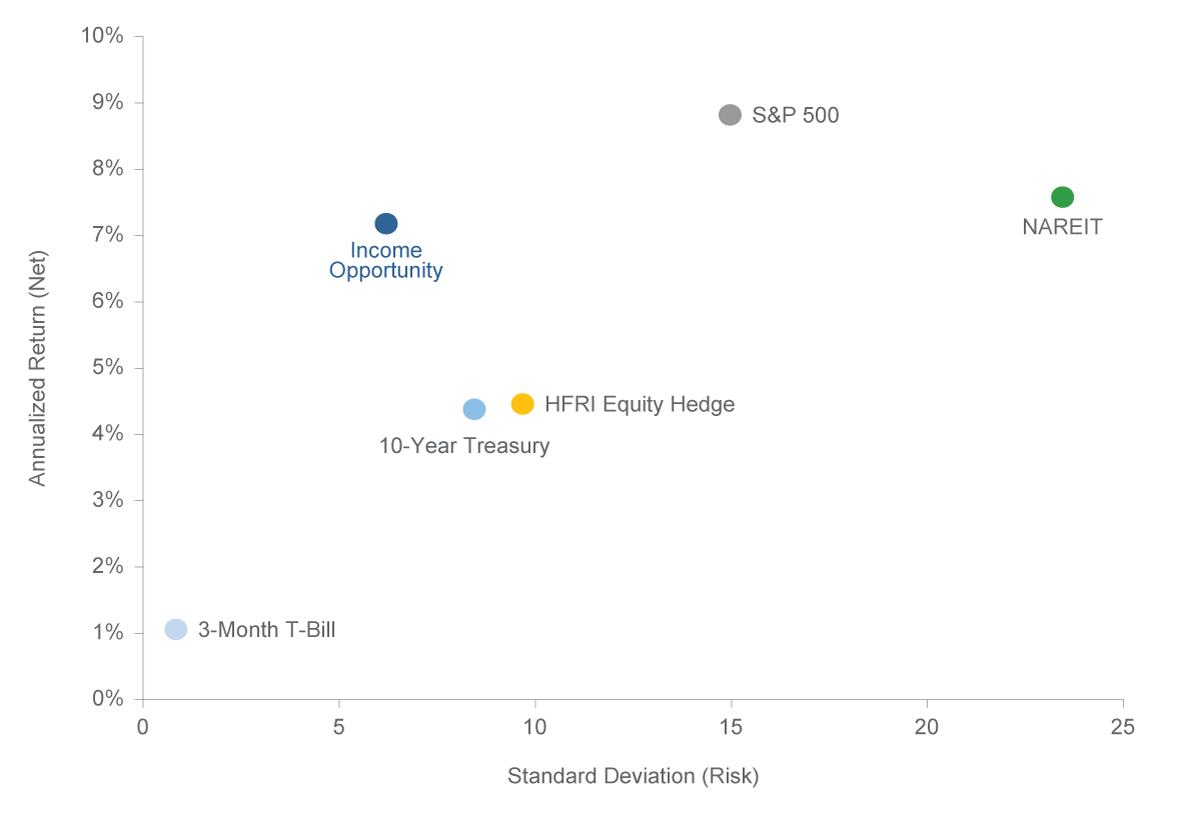 Potential Investor Benefits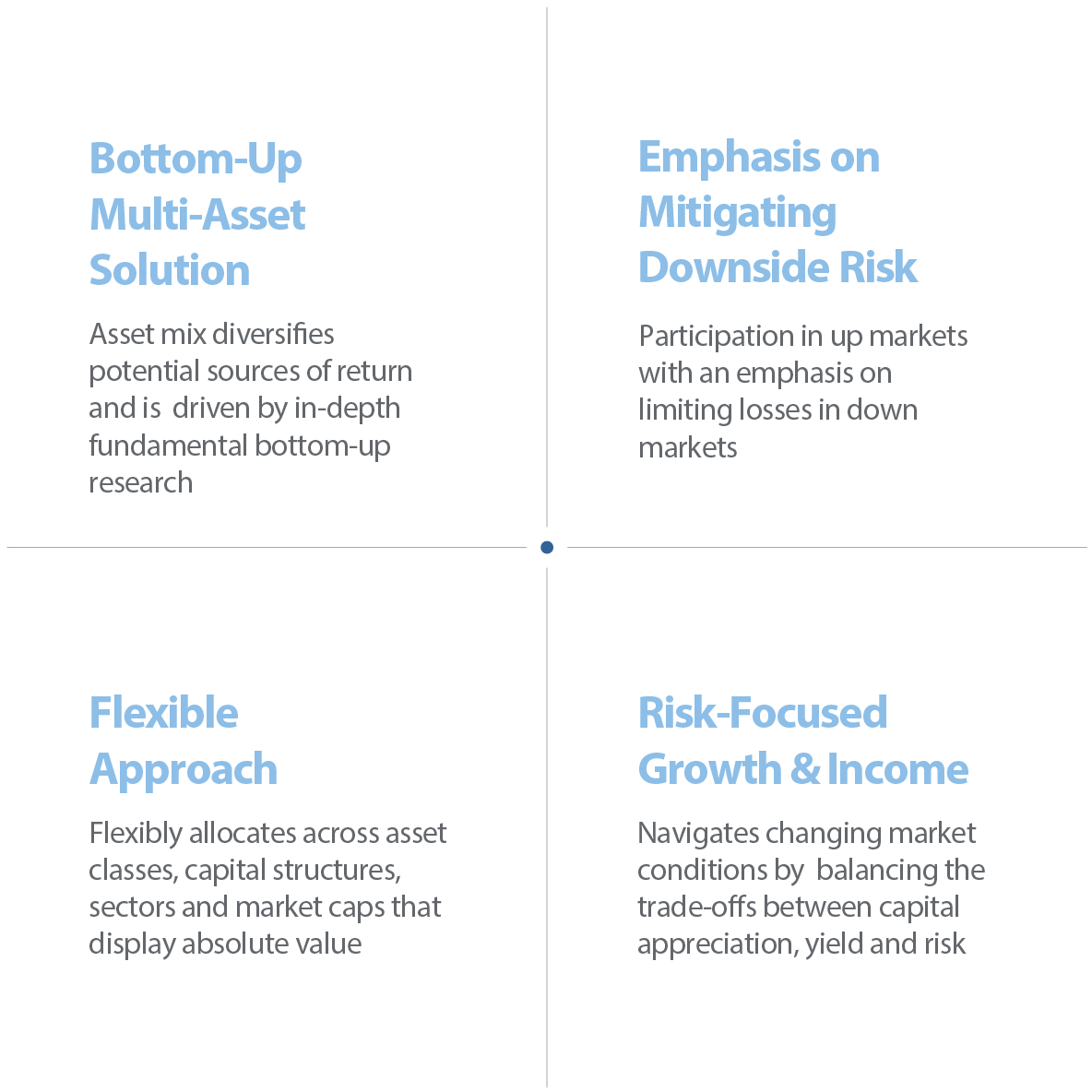 WHGIX Performance Update
As of December 31, 2017

Blended Benchmark:

Component Benchmarks:
To determine if this Fund is an appropriate investment for you, carefully consider the Fund's investment objectives, risk factors, charges and expenses before
investing. This and other information can be found in the Fund's summary and full prospectuses, which may be obtained by calling 1.877.FUND.WHG, or by visiting our website at westwoodfunds.com. Read the prospectus carefully before investing or sending money.
© 2018 Morningstar, Inc. All Rights Reserved. The information contained herein: (1) is proprietary to Morningstar and/or its content providers; (2) may not be copied or distributed; and (3) is not warranted to be accurate, complete or timely. Neither Morningstar nor its content providers are responsible for any damages or losses arising from any use of this information. Past performance is no guarantee of future results.
The Morningstar RatingTM for funds, or "star rating," is calculated for managed products (including mutual funds, variable annuity and variable life subaccounts, exchange-traded funds, closed-end funds and separate accounts) with at least a three-year history. Exchange-traded funds and open-ended mutual funds are considered a single population for comparative purposes. It is calculated based on a Morningstar Risk-Adjusted Return measure that accounts for variation in a managed product's monthly excess performance, placing more emphasis on downward variations and rewarding consistent performance. The top 10% of products in each product category receive 5 stars, the next 22.5% receive 4 stars, the next 35% receive 3 stars, the next 22.5% receive 2 stars, and the bottom 10% receive 1 star. The Overall Morningstar Rating for a managed product is derived from a weighted average of the performance figures associated with its three-, five- and 10-year (if applicable) Morningstar Rating metrics. The weights are: 100% three-year rating for 36-59 months of total returns, 60% five-year rating/40% three-year rating for 60-119 months of total returns, and 50% 10-year rating/30% five-year rating/20% three-year rating for 120 or more months of total returns. While the 10-year overall star rating formula seems to give the most weight to the 10-year period, the most recent three-year period actually has the greatest impact because it is included in all three rating periods. As of 12/31/2017: WHGIX was rated against the following numbers of Allocation – 50% to 70% Equity funds over the following time periods: 718 funds in the last three years, 670 funds in the last five years and 477 funds in the last ten years. With respect to these Allocation – 50% to 70% Equity funds, WHGIX received a Morningstar Rating of 2, 3 and 5 stars, for the three-, five- and ten-year periods, respectively.
The Westwood Income Opportunity Fund is distributed by SEI Investments Distribution Co. (1 Freedom Valley Drive Oaks, PA 19456), which is not affiliated with the Advisor.
Mutual fund investing involves risk, including possible loss of principal. There can be no assurance that the Fund will achieve its stated objectives. There are specific risks inherent in small cap investing such as greater share price volatility as compared to other funds that invest in stocks of companies with larger and potentially more stable market capitalizations. Bonds and bond funds will decrease in value as interest rates rise. High yield bonds are highly speculative and carry a greater degree of risk. High yield bonds held by the fund are subject to greater credit risk, which raises the potential likelihood for the bonds to default on principal and interest payments.