As 2018 began, many investors had become complacent after a year in which equity markets did not see so much as a 3 percent correction. Volatility returned in a big way during Q1 though.
January started with a sharp rally of over 7 percent. Then, after a strong employment report showed potentially inflationary pressures in the labor market, U.S. equities corrected for the first time in two years. The S&P 500 declined 10 percent over a nine-day period beginning on January 29.
Equities traded in a tight range for much of the quarter. A two-day rally to end the quarter pushed stock indices barely into the green; however, investor worries of a more hawkish Fed policy, as well as the President's fierce nationalist rhetoric on global trade, are clearly affecting equity prices.
January saw a new era at the Federal Reserve; Jerome Powell succeeded Janet Yellen as Fed Chair after the January meeting. Powell's ascendance did not change the well-established monetary policy of the bank. Much like when Yellen took over for Ben Bernanke, Powell's first meeting culminated in a continuation of existing policy.
The Fed raised short-term rates 25 basis points to 1.75 percent in March. The Fed Board noted that economic growth was "solid" rather than "moderate" in previous announcements. It expects to lift rates another two or three times this year, and three times in 2019. The Board justified its interest rate hike on steady job market gains and its ongoing expectations that weak core inflation will soon strengthen.
2018 First Quarter and One-Year Trailing Returns Across Asset Classes
Even though the March rate hike was expected, the market clearly struggled with the future path of rate hikes. However, history shows that stocks perform well during rate hike cycles. Since 1970, there have been six series of rate hikes, lasting from one to four years, and the S&P ended up higher at the end of the cycle five out of six times. Only when specific asset class bubbles form — technology stocks, housing, energy, etc. — does the market tend to fall.
Despite the uncertainty in markets, the U.S. economy is decidedly heading in the right direction. Unemployment fell in Q1 to 4.1% — a 30-year low. Payroll gains increased versus recent trends, and the participation rate has begun to rise again. While the labor market is resilient, wage gains have overall been lackluster, but are expected to rise as unemployment continues to fall and labor market slack is reduced.
Typically, inflation starts to move higher at low levels of unemployment. This cycle does appear to be different, as core inflation data have remained low. Many of the jitters in the market have been a result of investors worried that the Fed will become too hawkish on inflation. At its March meeting, the Fed raised its long-run inflation forecast above 2 percent, albeit slightly. This was possibly a sign to equity investors that the Fed will take a more dovish tilt on inflation in the coming years.
Earnings growth for the fourth quarter of 2017 was solid, with S&P 500 earnings increasing over 10 percent according to Bloomberg. With the 2017 tax cuts now in effect, expectations for bottom-line growth are rising for 2018.
Equities would seem to be in a sweet spot, with strong corporate earnings growth, low inflation, accommodative monetary policy and low unemployment. Valuations are also supportive. At the end of Q1, the S&P 500 sat at 2,641, which is approximately 17x Westwood's estimate of 2018 earnings. Although this economic cycle is already long in the tooth, the combination of tax cuts and regulatory reform is serving as a rare late-cycle fiscal stimulus which could very well extend the cycle for a few more years. Capital expenditures are ramping higher and pushing the rate of nominal economic growth toward 5 percent, an important level historically. The recent surge in the PMI (manufacturing) index is further evidence that this may be an elongated cycle.
In the short term, the market will become focused on the mid-term elections in November. The policy impact from a potential change in Congressional power brings heightened volatility and oftentimes market corrections in the months leading up to Election Day. As the election approaches and the outcome becomes more certain, markets tend to revert quickly back to the underlying fundamentals.
Q1 Review
The S&P 500 declined slightly in Q1, posting a total return of -0.76 percent. As mentioned, volatility has increased substantially since year-end. One thing that has not changed is the wide dispersion of returns among economic sectors. The difference between the best and worst S&P 500 sectors was almost 10 percent in three months.

Technology is the top-performing sector year to date at +3.5 percent in Q1 but it no longer maintains a cavernous divide between itself and the rest of the market. Technology led the late-quarter selloff, but still finished up for the quarter. Threat of government intervention touched most of the major growth themes in the sector.
Investors finally exited the space in March as the sector was dealt a number of setbacks. The Trump administration blocked a merger between Qualcomm and Broadcom on very questionable grounds of national security. Facebook was shown to have sat idly by as an advertiser misused personal data from millions of its users; then it fumbled the response immediately after the incident was reported in the media. Despite these and other challenges, technology still continues to show solid top- and bottom-line growth and has led market gains over the last year.

Financials were nearly in-line with the wider S&P 500, posting a slight loss, notwithstanding the signaling of more aggressive rate increases by the Fed in Chairman Powell's first FOMC meeting. The second best sector of 2017 should benefit from better net-interest margin, but the market may have been too bold in pricing that benefit into the shares.
Utilities and Telecoms (-3.3 percent and -7.5 percent, respectively) were some of the worst-performing sectors last year as the global risk trade was decidedly on, leaving defensive sectors temporarily in the lurch. But in February when the volatility struck, the traditional safety plays did come through and were counterbalancing influences against some of the selloff activity in Tech and Financials.

Energy has been and remains out of favor. Despite a 7.4 percent rally in WTI crude oil prices this year, energy stocks have declined almost 6 percent year to date. For years, energy firms were able to rally share prices by increasing production and reserves, but today's investors want to see some proof that profitability is sustainable in the long-run.
Finally, it is worth noting that the volatility was not a domestic-only phenomenon, as the MSCI EAFE Index was also down -1.4 percent for the quarter.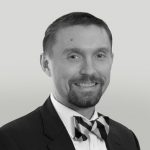 Allen Lewis, CFA
Vice President, Westwood Trust – Houston